Siamo fieri di annunciare che la web-suite grafica Aviary è stata inserita tra le Google App.
Da oggi, gli utenti di Aviary potranno condividere e editare le loro creazioni direttamente dall'interfaccia Google Doc.
Alittleb.it ha collaborato con il team di Aviary nello sviluppo dell'editor di immagini (Phoenix), dell'editor dei colori (Toucan) e dell'editor vettoriale (Raven).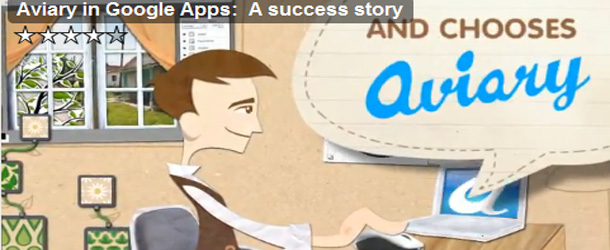 Aviary è una suite di strumenti creativi. Per il momento è composta da sei editor, inclusi un'editor di immagini ed uno di suoni. Queste applicazioni sono disponibili direttamente dal proprio browser (senza necessità di alcuna installazione) e permettono di archiviare ed accedere alle proprie creazioni da qualunque computer. Aviary is a suite of creative tools. There are currently six editors including image and audio editors.
E' possibile utilizzare Aviary gratuitamente per creare, modificare e condividere  qualunque opera di graphic design o audio.
Il team di Aviary ha creato questo divertente video (in inglese) per presentare Aviary agli utenti Google App e per celebrare il lancio: Aviary is in Google Apps
Leggi la notizia anche dal Blog di Aviary e aggiungi Aviary tra le tue Google App!