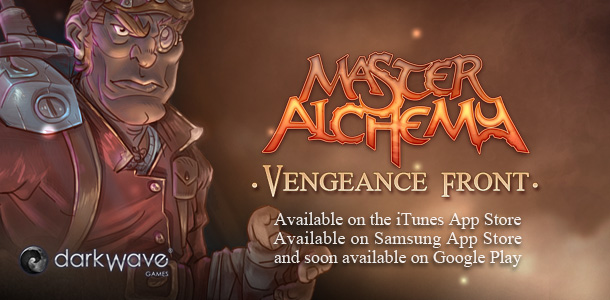 È disponibile da oggi sull'iTunes App Store il nuovo gioco della serie Master of Alchemy, sviluppato da Darkwave Games (il gaming brand di Alittleb.it).
Master of Alchemy – Vengeance Front include un motore fisico realistico e meccaniche di gioco che soddisferanno sia i fan che chi non ha mai giocato ad un episodio di Master of Alchemy.
Master Of Alchemy – Vengeance Front è il secondo episodio della serie Master of Alchemy, originale puzzle game targato DarkWave Games che narra la guerra in corso tra Alchimisti e Meccanologisti.
All'interno di questo nuovo titolo pubblicato in collaborazione con Reply Forge; i giocatori potranno apprezzare le migliorie grafiche che permetteranno di immergersi ancor meglio nell'originale ambientazione, per scatenare l'alchimista che si ha in sè!