What is mobile marketing?
Mobile Marketing Association says: "Mobile Marketing is a set of practices that enables organizations to communicate and engage with their audience in an interactive and relevant manner through any mobile device or network".
Mobile marketing allows for a meaningful, personal, and long lasting dialogue with customers, driving engagement with brands and enhancing affinity for them.
Mobile marketing tactics mainly consists of SMS and MMS, Mobile Web, Native or Web-based Applications development, Mobile Advertising, In-Game Mobile Advertising.
Why companies must have a mobile marketing strategy
1. Internet will be more and more Mobile
According to Nielsen, the U.S. mobile Web grew at an average rate of 2% month over month in 2009. At this rate, combined with the accelerated adoption of smartphones and mobile-optimized sites, by the end of 2010, the mobile Web will reach more than one-half of the consumers on the wired Web. The graph below, instead, shows a forecast of the number of European mobile internet users: by 2014, it is projected to be triple what it was in 2008. In addition, 3G-enabled mobile phone usage is projected to grow from 46 percent to 81 percent in the US and from 34 percent to 70 percent in Western Europe from 2009 to 2014.
Finally, Gartner's analysts foresee that, by 2013, smartphones will be the most used devices to access to internet: in that date, the global number of installed pc will be 1,78 billion, while the number of web-capable mobile devices will be 1,82 billion.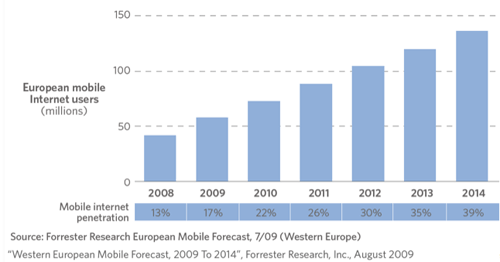 2. Because Competitors will use Mobile Marketing
According to DM2PRO (in its in-depth exploration of attitudes and spending plans of leading marketers, publishers and advertising/media agencies), mobile marketing expenditure will rise a lot in 2010 – see below figures.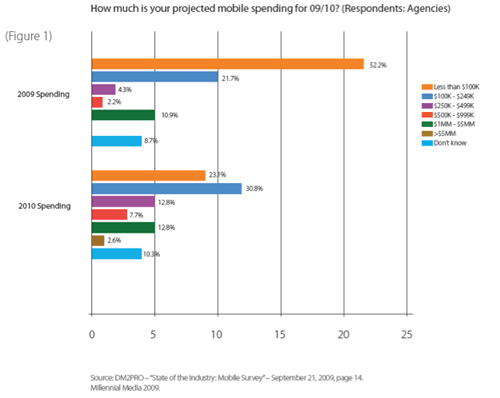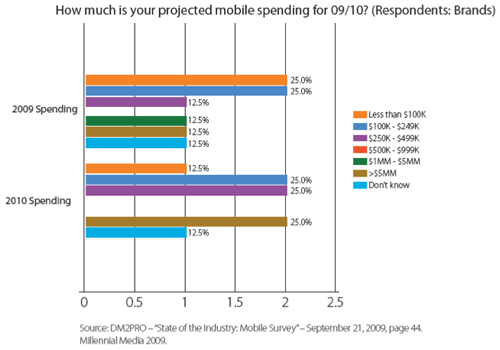 In addition, in its survey, DM2PRO asked to the marketers of leading brands if they believe mobile marketing one important part of their overall marketing strategy: 62,5% of them replied that mobile media is indispensable.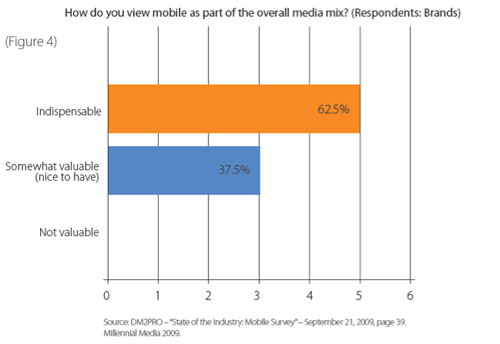 A Forrester Research's forecast about Interactive Advertising Models says to us that mobile marketing will have a big success in the next years (see below figure). Another DM2Pro study on the current strategies and future plans of more than 600 major advertisers, agencies, publishers and application developers shows social app spending will flatten while mobile app investment soars. If we consider that mobile app are more and more social and that they are very useful tool for social media marketing strategies, it is evident that companies have to invest immediately on mobile marketing, to not lose important business opportunities.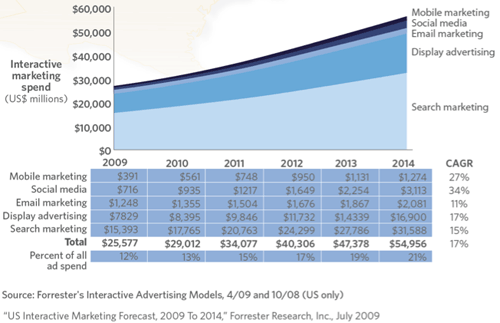 Even if this isn't the right post, we want to underline also the big market interest in interactive display advertising, field where our fully customized smart fixtures and interactive kiosks are the most technologically advanced products.
3. Because Mobile Marketing is Effective
When DM2PRO asked to the marketers which was their satisfaction degree about a past performed mobile campain, the 77,8% of them replied that it was satisfactory; but an impressive 8,9% replied "beyond our wildest expectations".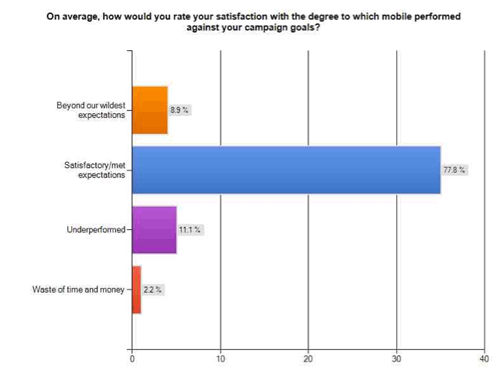 In addition to the just presented data, the Foster Research's survey say to us that marketers believe that mobile marketing effectiveness will increase more in the next years.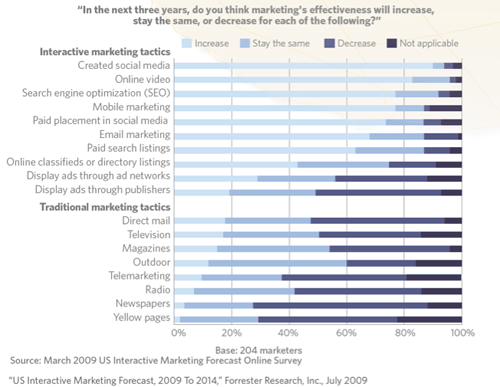 4. Because with Mobile Marketing you can target the right audience
Mobiles as communication media have a big advantage: it's possible a fine segmentation of the audience. But this isn't the only advantage: the usage of Location-based services (LBS) is a way to send custom advertising and other information to mobile users based on their current location (right target at the right time). The mobile service provider gets the location from a GPS chip built into the phone, or using radiolocation and trilateration based on the signal-strength of the closest cell-phone towers (or using a single base station, with a 'radius' of inaccuracy), or using WiMax technology .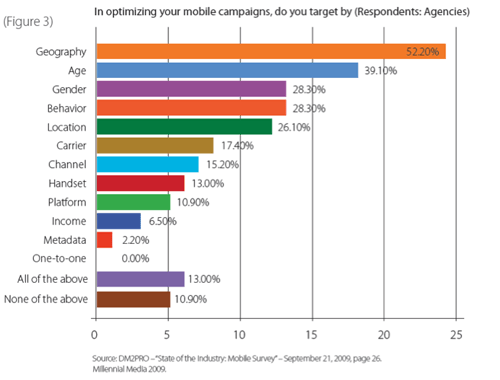 CONCLUSION
Mobile marketing differs from most other forms of marketing communication because it is often consumer initiated. So, companies need to find new ways to involve consumers. The development of mobile applications that give some advantages to consumers is a way to involve them and to improve brand image and awareness, not to mention the lock-in effect created by the presence of the application itself between other user's apps.
Other instruments to involve consumer are the development of mobile games (and in-game advertising) and the connection of mobile apps with social networks.
Finally, it's important to remember that mobile markets have created new marketing instruments: for example, a well-functioning micropayment model, localized real-time advertisement, new-ecommerce models, new bidirectional communication possibilities, etc.
'While the last decade was focused on the Web, the next phase in the evolution of our industry will be on the convergence of Web, mobile and desktop applications and the ability to extend existing applications with these new technologies for a consistent user experience regardless of how and where the information is viewed', says Nexaweb CTO Jeremy Chone in this Exclusive Q&A with with SYS-CON's Web 2.0 Journal in the run-up to his session on October 20 at AJAX World RIA Conference & Expo in San Jose, California (October 20-22, 2008).
Author: Alain Bonati