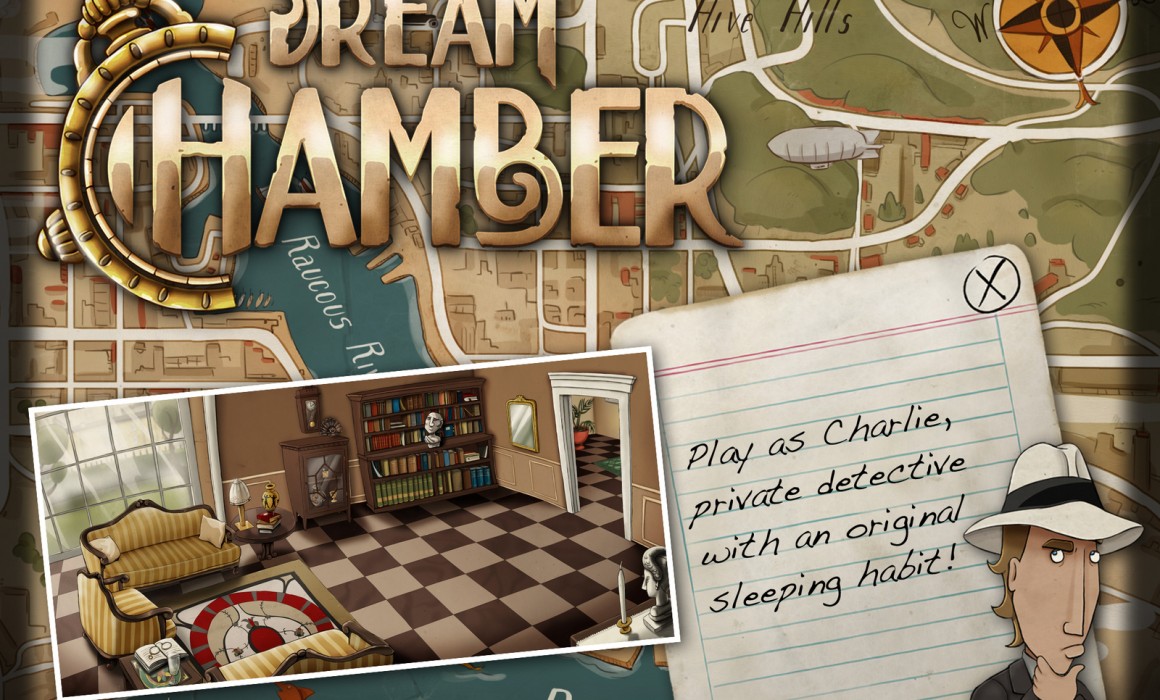 ---
Project name: Dream Chamber
Category: Adventure Game (iOS + Android)
Client: DarkWave Games by alittleb.it
Technologies: Unity 3D / Proprietary "Real Chamber" Technology
Publisher: Microïds / Anuman Interactive
Investor: Reply Group
Link: http://www.darkwavegames.com/dream-chamber/
---
Dream Chamber is a point-and-click adventure game, in the third person, for iPhone, iPad, PC, Mac, Android, developed by DarkWave Games (Alittleb.it's gaming brand), co-financed by Forge Reply, published by Microïds.
Step into the shoes of Charlie, a private detective and rich heir, for whom humor is the best weapon! In Dream Chamber, uncover the culprit in this simultaneously breathtaking and dreamlike quest.
Technology
Coherently to our basic strategy, Dream Chamber has been created to develop and to test a new technology that will become an Alittleb.it's product: "Real Chamber". So, very soon, Alittleb.it will be able to offer to its clients an innovative and very effective new approach to Game-Based Marketing: "Real Chamber" has been conceived to allow Alittleb.it to rapidly develop optimized multiplatform Graphic Adventure, set in real locations, minimizing entrance-barriers for users.
In fact, here two of the main features of Real Chamber:
we choose to use 2D environments as graphic base and our technology is able to automatically simulate 3D. This feature will allow:

to delete every entrance-barriers for the user, making the product cross target;
to use photographs to create the environments, without requiring expensive and time-consuming 3D reconstructions.

the technology is based on Unity3D: this helps us to rapidly develop, test and publish on iOS, Android, Window (desktop and mobile), OSX, Linux. Plus, it's easy to create browser version of the product
In example, Real Chamber will be a fantastic tool to create:
Company tours: to describe innovative process; to let clients see quality assurance processes; to narrate the company history; etc. etc.
E-learning for Employees: to teach to new employees spaces, procedures, standard approaches to clients, etc. etc.
Educational Products: Museum Tours; Simulations of way of living; etc. etc.
Etc. etc.
So, come back soon: we're unveiling and effectively introducing our terrific "Real Chamber" technology!
THE ADVENTURE
A humorous adventure with a quirky cartoon graphic style. Immerse yourself in 30s America, between Prohibition and the Great Depression, and discover Charlie, a rich heir who divides his time between social obligations and his hobby as a private detective. During yet another official museum opening, Charlie witnesses a robbery, the victim of which is none other than his own girlfriend. Firmly set on investigating the case despite the reluctance of his uncle, the detective in charge of the inquiry, he unknowingly embarks on what will become the greatest adventure of his life! Thanks to his unique skill and unrivalled memory, Charlie explores and investigates all the way into his dreams!
In true adventure game style, Dream Chamber will delight the genre's fans and captivate new players!
HIGHLIGHTS
A unique graphic style! All handmade graphics!
Original Swing/Jazz Soundtrack – studio recorded
An original game with a brand new scenario
Revisit your investigation scenes in your sleep and you might find the answers in your dreams!
Solve many different enigmas and puzzles
Interrogate the suspects and break their alibis via mini-games
A jazzy and humorous atmosphere
Voices in English and texts in French, German, Italian and Spanish
Available for PC, MAC, iPad 2 and above. Android and iPhone version coming soon
Two different game endings