---
Project name: Act of Fury – Kraine's revenge
Category: iPhone & iPod Touch Game – Innovative Shoot'em up
Client: DarkWave Games by alittleb.it
Technologies: UnderWAVE (our framework), C++, OpenGL, Objective C
Publisher: Forge Reply
---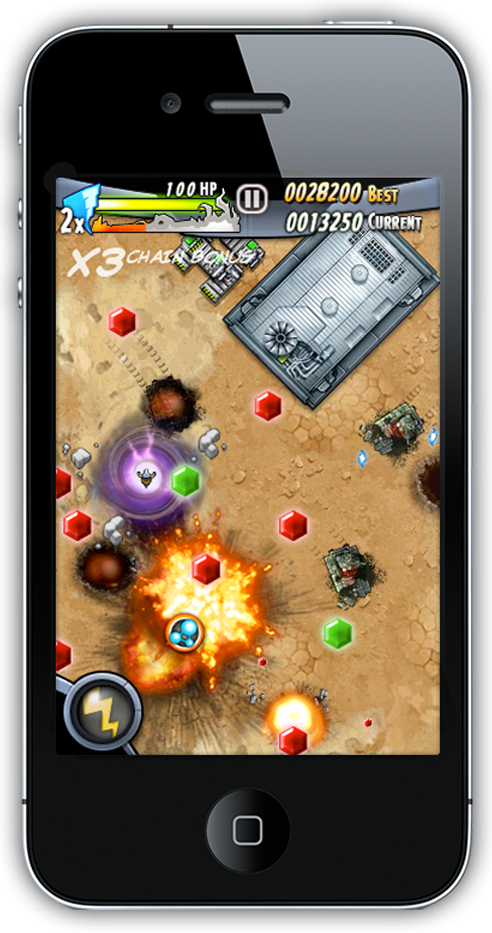 Brief Description:
Act of Fury: Kraine's Revenge is the firstborn of a new breed of shooters, where you don't have to shoot because YOU are the weapon.

Kraine Severe has undergone mad experiments by the infamous Dr. Osvald Pernicious, leader of the Doom Legion. After a daring escape from the laboratory, he realizes he can transform himself in a mighty hurricane. His next step is easily taken: pursue revenge, destroy everything that tries to stop him.
Highlights:
A brand new shoot'em up mechanic: you're are the weapon – destroy everything and pursue your personal vengeance!
Nine levels of wild action in four different environments, from the hottest desert, to the icy pole.
Three huge bosses to fight, based on the evolution of the Doom Legion's prototype weapon.
Two difficulty levels -normal for everyone and Hell mode for hardcore shoot'em up fans.
Earn stars and spend them to unlock special powers, like elemental hurricanes and thunderstorms.
Game Center and OpenFeint support for achievements and leaderboards.
Some Awards:
BEST Gaming App 2011 – Macity Awards
Community Game of the Week – Touch Arcade
Bronze Award – Pocket Gamer France
Lite version:
A Lite version is available on the App Store with:
Three exclusive levels non included in the full game.
A huge boss fight.
A special power is automatically activated in every stage to demonstrate the customization of the character.
Normal and Hell mode to try both kind of gameplay.