---
Project name: Unexpected Formal
Category: Digital Communication – B2B & B2C, Consultancy; Responsive Web Development
Client: Replay – Fashion Box Spa
Technologies: HTML5, Javascript, Interactive Pdf
---
Replay – Fashion Box Spa – has signed a deal with the FC Barcelona as the official sponsor of clothing and footwear for the team and the rest of the Club's sportsmen and women. Replay will create both official clothing and a "smart casual" line for the first team.
To celebrate the agreement, Replay has developed the Denim Zero, a jeans created by an exclusive eco-friendly process which utilizes high-pressure ice crystals.
Replay asked to Alittleb.it to look after all the Partnership digital image.
The Replay-Barcelona partnership is born from exclusivity and unconventional approach. By this sponsorship, Replay redefines the way to elegance, through denim. With help from Alittleb.it, it's also rethinking how to better use digital media.
We worked with Replay to create a rich, interactive experience that valorises the partnership and the Denim Zero. Moreover, we are developing the digital tools addressed to wholesalers to allow Replay to manage in an integrated manner all the international communication about the FC Barcelona partnership.
First, we have conceived and created the landing-page that introduces the new Replay – FC Barcelona partnership.
The high impact, fully responsive HTML5 multimedia vertical scrolling page, with parallax effect, has the main objective to introduce and justify the innovative partnership to the clients, creating a new image for Replay. So, we invented the payoff "Unexpected Formal" to stress the innovation of the partnership and the new use of Denim, that raises itself as a formal fabric.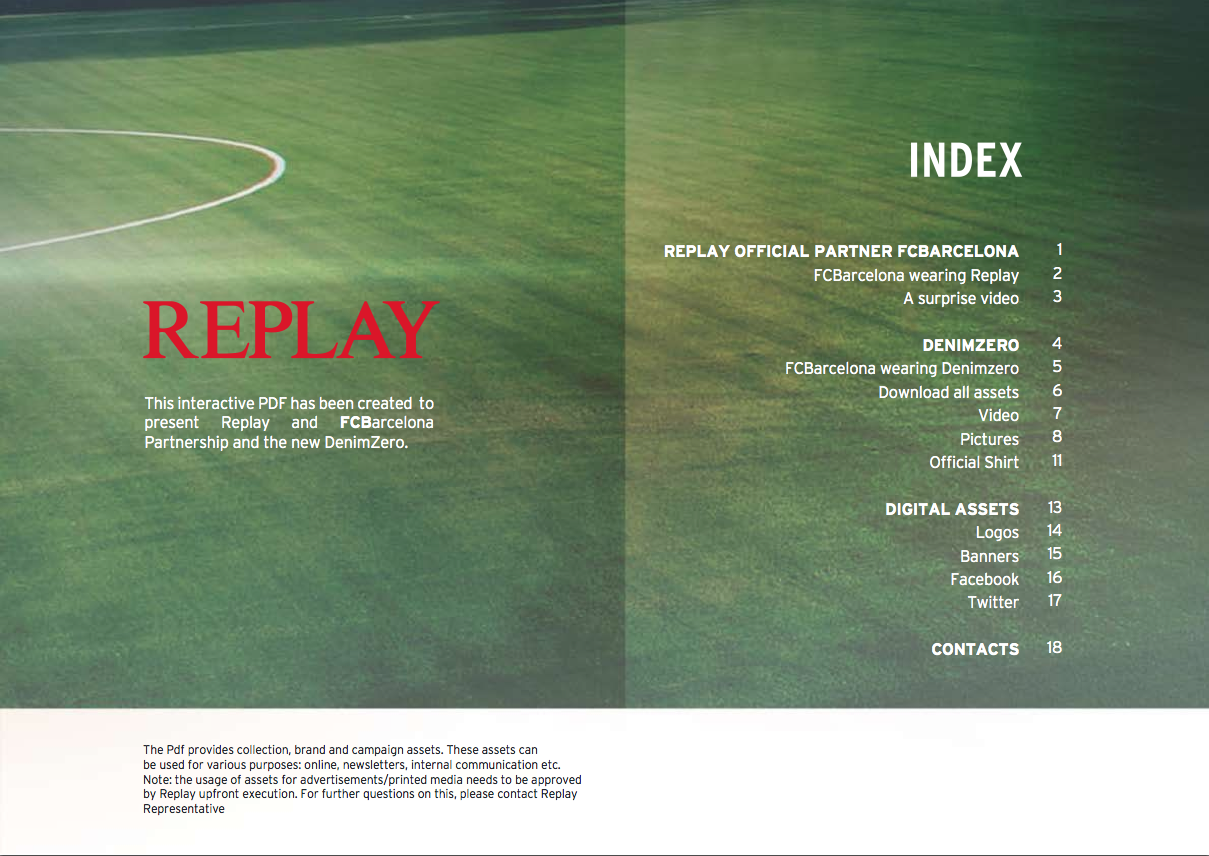 Then, we have designed static and flash-animated banners, in all IAB standard ad size, and the images for all the most important Social Network; all the creativity refers to Denim Zero teaser video, using the ice/freezing concept.
Finally, we have created an Interactive Pdf, addressed to all Replay Wholesalers, containing all the guidelines, logos and assets (textual, graphic and video) to help Replay to create an integrated international communication, essential to create the right brand image, given the innovation of the partnership and of the Denim Zero.